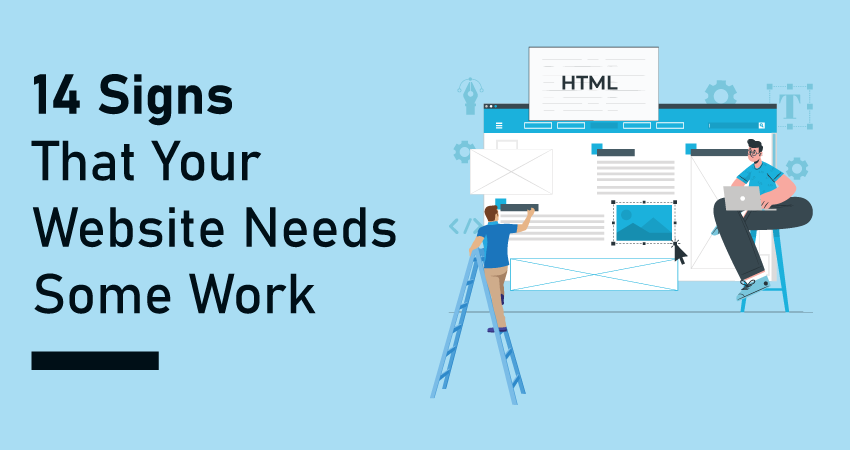 Running a business in a digital environment needs a website that can impress your visitors by high standards of user experience and user-friendliness.
Having a website for your business is like the virtual reality of your business, and your potential customers are definitely going to visit your website once before they make any decisions.
If you don't have an effective and lively website, you will be missing out on opportunities that expand your business.
The online behavior of customers is changing rapidly because of evolving patterns of web design and web development, and thus every business needs to update its website frequently to stay relevant in the market. We call it website improvement strategies.
A well-maintained website increases the chances of better sales and rankings on Search Engine Results Pages (SERPs).
There are some hints that your websites have, and you need to consider it as a sign of website makeover or redevelopment, and it needs some work for sure.
Here Is The List Of The Things That Indicates The Need For Some Work On Your Website –
1. Your Website Is Not HTTPS Secured –
Not securing a website with HTTPS leaves a negative impression on your website visitors and also on organic search results too.
In July 2018, Google's Chrome started labeling any site that doesn't have HTTPS as a "Not secure" website.
And surprisingly, many website owners seem to not care about it as there are many unsecured websites on the internet.
If your customers find that your business doesn't have a secure website, they will suspect your presence and intentions and may not proceed further with their purchase decision.
Moreover, unsecured websites impact negatively your SEO activities and SERPs, which in return limits the growth of your business.
So, not having a secured website is the first major indication that you need to work on your website and update it to a secure version.
2. No Social Media Icons –
When a customer visits your website, they would also like to see your online presence on other social media platforms.
If you don't have a social media presence, it limits the growth of your business as modern audiences want to go through a business's social media pages before making the purchasing decisions.
There is a huge portion of an audience that looks for products on social media pages, and if your business doesn't have social media pages, you are missing out on those opportunities too.
Including social media sharing options on your website, let your customers explore your business's social media presence and thus providing one more reason to trust your business.
One more thing you need to make sure of is that all the social media buttons on your website are working properly.
3. Lack Of Mobile-Friendliness
If you just look around, you will see almost all people with their heads down on their phone, probably including you too, right?
More than half of the internet traffic comes from mobile, and thus it becomes super important to make sure that your website is mobile-friendly.
In fact, in July 2019, Google enabled mobile-first indexing by default for each website, so you need to make sure that website is mobile-friendly and easy to use on mobile devices.
If your website is not mobile-friendly, it will become difficult for users to navigate through your website, and they will soon leave the website.
Moreover, you can also have Accelerated Mobile Pages(AMP) on your website to solve the problem. This will improve your website rankings.
4. Your Website Takes Forever To Load
Yes, if your website load time is too much, your visitors will not wait for it to load and will soon leave your website even without giving you a chance to show your work.
Additionally, high load time also affects the SEO performance of your website and thus overall online reach and ranking numbers.
There is a clear correlation between page load speed and how a website ranks in SERPs accordingly.
Page speed depends on various factors, including website setup, size of a website, content management system, and technology setup.
You can use Google's Page Speed Insight tool to examine the factors causing a website to be slow.
5. Not Updating Content On A Regular Basis
Updating content on a regular basis improves the chances of visibility and thus increases SEO rankings. Website improvement on content part is highly important for businesses.
If your visitors find that you haven't updated the latest information of your industry or still have information that is outdated and holds no value in the current time, then there are huge chances that they will evaluate your business's accuracy based on that.
If you don't update your website regularly, new visitors will just visit your website and jump over to another website to find the information they are looking for.
Though your website has valuable and interesting information, if it is not updated regularly, it passes the wrong message to visitors that you don't care about updating your website.
Updating regular blog posts is the best way to keep your website updated.
6. No Call-To-Action (CTA) Buttons On Home Or Landing Page –
Your visitors are visiting your websites for obvious reasons, and they want them to be available easily.
As the attention span of humans is becoming lesser, they will quickly try to look at the CTA button and if they don't find it in a handy manner, they are more likely to leave your website without taking any actions, and that is how a business loses its potential customers.
Including easy-to-understand, CTA will improve the chances of getting more leads from your website.
7. Pages With 404 Or Any Other Technical Error –
Would you like to get land on a page that no longer exists or has major technical issues?
No, right? Same as you, your visitors and customers would not want to get on pages that are not useful to them.
Additionally, pages with technical issues lead to a bad user experience, harming the reputation of the website.
8. Website Is Too Complex To Navigate –
A website with a simple navigation system will facilitate visitors to get the information quickly while better user experience.
If it takes a lot more time for visitors to find the information they are looking for, they will leave your site without trying much hard; because no one has time to go through complicated things.
One needs to make sure that adding new features or content to your web design should not lead to the complexity of a website.
9. Keyword Stuffing –
Keyword stuffing is a term that describes that a word or phrase has been repeated too many times which makes a sentence sound unnatural or artificial.
Keyword stuffing in the website content not only harms the SEO rankings but even readers find your content artificially drafted and thus susceptible to make any purchase or valuable action.
10. Web Security Concerns –
Web security is the last thing that businesses think about while redeveloping or redesigning their website.
As your website has valuable information about your customers and clients, it is necessary to keep your website secure with the latest security standards as old technology is more vulnerable to phishing and hacking attacks.
If your website gets hacked or data leaked, your existing, as well as potential customers, will hesitate to trust your company in the future which is again a big loss for your company.
11. Trivial Changes And Updates Costs You Overwhelmingly –
Small or minor changes like adding a blog post or updating an event, or making some content modifications here and there should be easy for anyone to make without consuming too much time and effort.
However, if your site is built on a platform that is difficult to work with, then it is time to update or build a new website built with an easy-to-use content management system (CMS).
12. Your Site Has Bugs –
Having bugs on your site can take many forms. Say, for example, it could be causing misalignment of your website, which doesn't leave a good impression on users.
Other than that, it could also make your site unworkable in some cases.
For instance, if a contact page of your website has some bugs or viruses, it will not prevent receiving information but you may not have access to that information.
A website with bugs and viruses is indisputably a sign of redeveloping a website because it not only looks unprofessional but it makes your website more vulnerable and unworkable to a great extent.
13. It's Been Long Since You Have Built Your Website –
If you have built your website, let's say 5 or 7 years, by now, there must have been newer technologies that provide better security, the latest technology, and other features that benefit your online growth.
14. Your Business Has Incorporated New Branding And Designing
If your company has embraced a new designing concept or color palette, then it is certainly time to redevelop your website and let your users and customers know about your latest updates and branding.
When you hire a web design agency for developing your website, you can discuss all the aspects like browser and device compatibility and many other various subjects that concern you.
Finally!
If you are looking for a web development and designing agency or website improvement services, then contact us at [email protected], and we would be more than happy to reach you as soon as possible.