Do you remember searching for a query on Google, and you see a sponsored ad there on the top of the Search Engine Result Page (SERPs). And if you have noticed that carefully, you will see that it has almost all the words that you had typed in the query box. 
All thanks to the Google algorithm and technically advanced tools of Google that allow us to show the ad to our targeted audience resulting in higher conversion and greater ROI. 
Keywords play a significant role in displaying your ad to the right and relevant set of audience. There are many types of keywords you need to know while running a PPC campaign. 
In this blog, we have discussed all that you need to know about PPC keywords. 
We have covered many PPC Keyword subjects like the process of PPC keyword research, the types of keyword matches with their respective pros and cons, keywords type, and ways to optimize your PPC keywords. 
Keywords are the foundation of a successful PPC campaign, so if you have done enough research and analysis on keywords before running your PPC campaign, you have won the half battle. But if you choose your PPC keywords randomly, you have lost it even though you had an effective ad copy. 
Google judges your ad based on the keywords that you have chosen and displays your ad accordingly to the relevant audience. Having a powerful knowledge of PPC keywords is the secret of successful PPC campaigns that deliver you desired results. 
By conducting PPC keyword research, you can filter the right and most suitable keywords for your ad from thousands of other keywords.
Here are the steps that you need to follow to get the right set of PPC keywords. 
Research, along with brainstorming, is the foremost step that takes place in order to get the most suitable keywords for PPC campaigns. 
Think of all the words that the audience might be searching for in order to get the products or services that you offer. 
Though there are many tools available online to find out the most popular keywords of the niche you are serving, it is essential to know and understand which keywords will support the purpose of getting more lead generation. 
Analyze your competitors' marketing strategy 
Once you are done with finding the most relevant and suitable keywords for your PPC campaign, you need to look at the strategy of your competitors. Find out the strong and weak points of their strategy and plan yours accordingly. Remember, you don't need to copy them exactly, just learn from them- copying someone will not assure your success. 
There are many tools available online that help you in exploring the market, and you can see what your competitors are up to and which are the keywords they're bidding on. 
By using such tools, you can see the full list of PPC keywords that your competitors are using and how much they are paying per click and per month, along with their ad position and searches they appear on. Moreover, you can also see the timeline of their ads.
Make the list of Keywords 

When creating a list of potential PPC keywords, you need to have your legs in customers' shoes and think from their perspective. 
Using online tools like Google Keyword Planner is the best way to collect all the relevant keywords for your PPC campaign. 
Enter a word as a search term to find out the relevant keywords along with their bid price, monthly traffic, and keyword search volume. 
Filter the list of keywords 
Once you are ready with all the relevant keywords, it's now time to filter it out. Nonetheless, it is important to focus on expanding the list of PPC keywords before you cut it down to specific; this way, you can make more rational decisions. 
Go to Google's search bar and upload the list of keywords that you have created. Examine all of the keywords that you have chosen. Look at the numbers of impressions they get monthly and estimated CTR along with the average CPC that you are willing to pay. Consider all of the factors and finalize your list accordingly. 
Don't always focus on the lowest bid as, sometimes, a high-price bid attracts more customers who are willing to buy more or expensive things. 
Group PPC Keywords into Ad Groups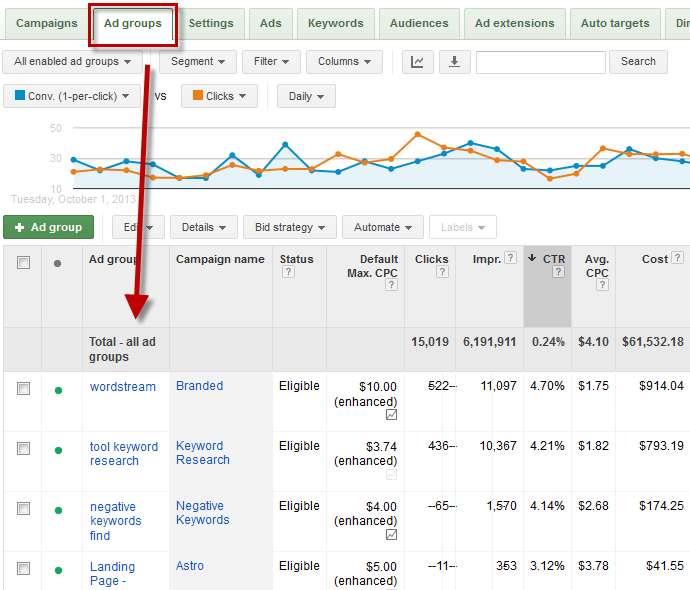 After filtering your targeted keywords, you are now ready with the final list, and all that you are left with is adding them into various ad groups. In simple words, ad groups are the groups of keywords that match the search terms of users. So, whenever a user searches for a term that is relevant to your PPC keyword set, your ad pops-up.   
Other than keyword relevancy, you can also group according to users' intent or the stage of the sales funnel. 
(Tools for Keyword research)
While going through the process of PPC keyword research, you will come across many types of PPC keywords. 
So, here is the list of the types of PPC Keywords 
While researching for PPC keywords, you will come across many types of keywords. A ton of them, but not all of them fall into the same category. 
There are many different types of PPC keywords, and each of them can be divided into a separate category. 
So let's have a look at the various types of PPC keyword category – 
As the name suggests, it is a set of keywords that are associated with some big brands. It can be any brand; it can be your competitors' brand or your own brand. 
Generic Keywords cover a set of queries that has yet unclear intent. Generally, it includes short-term keywords. It becomes difficult to understand the purpose of users- whether they are looking for just information or planning to purchase. So, it is a random set of keywords with no clear intention. 
Products or service-based Keywords 
Product or service-based keywords are those which are associated with a particular product or service. 
Sometimes, customers are more interested in specific products or services and are not looking for any specific brand for their purchase. In such cases, they type for the products without mentioning many details. For example, "best phone to purchase," here we can clearly see that the buyer is looking for a phone and he is not yet sure about the brand or company to go with.  
Same for the serviced base keywords, for example, "Best educational institute for XYZ course." Here, though, the consumer is finding an educational institute; he is not yet sure about any specific institute.  
Product and service-based keywords are more specific than generic keywords and less detailed than branded ones.  
Informational keywords are those keywords that are used while looking for information. A simple example is "How to cook a ABC dish at home" or any other "How to-s." 
Informational keywords don't perform well with paid marketing as the user is not having any intention of buying; he is simply looking for information. 
High-intent keywords cover the set of keywords that have a strong indication of buying intent. By utilizing high-intent keywords, you can improve the effectiveness of your PPC campaign. People who are searching with high-intent keywords are more likely to buy the product or service as they are not just randomly browsing but quite serious about their purchase decision. 
Long-tail keywords are those that comprise more than 3-4 words. Long-tail PPC keywords are highly transactional and thus have higher conversion rates. 
Feature specific Keywords 
Feature specific keywords focus on multiple aspects of a product, service, or brand. Feature specific keywords can be confusing when compared to high-intent keywords, but they both are different. 
For example, the users can be looking for "affordable shoes" or "Red color wallet." Feature specific PPC keywords are beneficial to use for your successful PPC campaign.  
Location-based keywords are great when you are focusing on a particular location. Location-based keywords help a PPC campaign to target the audience based in a specific location. 
Transactional keywords are quite ambiguous as they have both a strong and weak purchase intent. As the name suggests, transactional keywords are those that can transmit from one category to another. 
Negative keywords are those keywords that you don't want to trigger for your ad. 
So, let's say if you are a digital marketing service provider and don't want to appear for digital marketing courses, then you will use "courses" as a negative keyword. 
Utilizing negative keywords is a great way to control your spending as it will control the irrelevant traffic. 
After finalizing the types of PPC keywords, you decide the match types for PPC keywords. There are multiple types of keyword matches that you can opt for in PPC campaigns. The nature of the keyword depends on the match type. Keyword match type is a setting for the keywords that determine the reach of keywords. 
There are five types of match types for PPC keywords. 
Broad Match
In broad match type, your keyword appears in broad ranges of relevant searches. Using broad match types for PPC keywords is like shooting in the dark with little light. 
So let's imagine you are running an ad for your digital marketing services, and you target the keyword "digital marketing" with a broad match; your ad can appear even when someone searches for a digital marketing course. So with broad match type, Google tries to show your ad for almost all relevant terms. 
Here are the pros and cons of the broad match – 
Broad match pros –
Covers misspellings and keyword variations 

Chances of discovering high-converting long-tail keywords 

More impressions and clicks compared to other match types 

Effective 
Broad match cons –
Getting irrelevant searches 

Difficult to control 

More clicks causing high costs 
Broad Match Modified
In order to make the keyword a broad match modified, you need to add it with plus signs. 
So let's say you are targeting digital marketing services as a keyword; you will put it as digital + marketing + services 
Broad match modifier pros –
Control over the types of searches the ad appears on 

Discovery of new long-tail keywords 

Ad display even though a little bit of different word order or additional words 

Catches misspellings 

Your ads will still appear, although the search phrase has an extra word or different word order.
Broad Match Modifier Cons:
Lower search volume compared to broad match 

Expansion to seemingly irrelevant searches 
Phrase Match
In this match type, your ad gets displayed only when there is a phrase or sentence related to the keyword. You need to add your keyword with quotation marks(" "). 
Phrase Match Pros –
Much better control over the queries you appear on 

Quite effective for sentence searches 

Limited expansion 
Phrase Match Cons –
Decreased search volume 

Limited benefits 
Exact Match
With an Exact Match Type, your ad will get triggered only when there is the exact search term matching your keyword. 
To categorize a keyword in exact match type, you need to add it with brackets. The exact match type is precise, direct, and target on point. 
So, you will make it like [digital marketing services] 
Exact Match Pros –
Great converting ratio

Totally controlled search appearance preference 
Exact Match Cons –
Limited search volume for the keywords 

Miss-out on one time searches 

No discovery of keyword variation and long-tail keywords 
Phrase match modifier
Phrase match modifier, also known as PMM, allows you to link a particular set of words together within the frame of the keyword. 
To use a phrase match modifier, you need to use +(text).(text).(text) format. 
By using a plus sign and adding words with period in-between, you are binding those words together in that order. So, keywords in a phrase match modifier function as a phrase match within the larger keywords. 
Phrase match modifier pros –
Highly effective when you want a specific order to follow for your keywords. 
Stick to the intent of the search 
Reach and flexibility of broad match modifier with semantic control 
The bottom line 
Keywords indeed play a significant role in the success of PPC campaigns. Choosing the right set of keywords and keyword match type hold the key to success. 
Understanding the objectives of your campaign will help you in selecting the right set of keywords and other deciding factors.