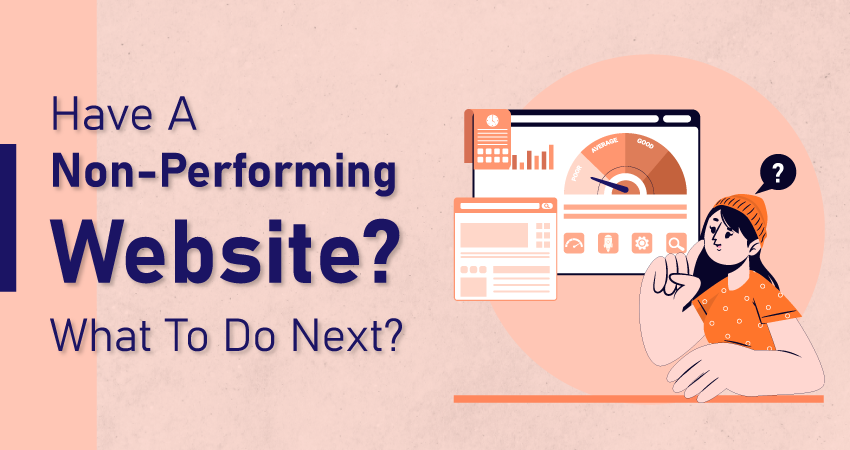 Do you have any idea whether your site is functioning?
New websites often struggle at first, so don't feel bad if yours isn't doing well. Numerous individuals and businesses are making aesthetically pleasing mobile applications and online platforms. Too many of them are useless, unfortunately. Such websites should be preserved and shown in museums, maybe behind glass. See, but don't touch anything! You may damage it.
Millions of websites are utilized daily for various reasons in today's digital environment. Therefore, companies are emphasizing their websites' capacity and agility to accomplish commercial possibilities. Many of these websites aren't user-friendly, at least not at the first-byte level.
A poorly optimized website's performance is hampered by several factors, such as long load times, poor user-friendliness, incompatibility with certain browsers and devices, etc. These problems demonstrate that your website is losing conversion both now and in the future, hurting your site's performance. The result is that a lot of promising leads are lost due to a margin of a few seconds.
Time spent loading is measured in seconds and represents how long it takes for a user to see your website for the first time. A high bounce rate indicates that customers gave up waiting for the site to load, which is bad news for the site's owners. As a result, you may set new standards in the client acquisition process by improving the website's performance from an SEO standpoint.
8 things to do when you website is not performing well
There are tools available to measure website issues. The tools provide different grades according to the performance, with the list of issues holding your web application from progressing. Leverage these tools to refine optimization and have a better-appearing website.
Here are the fundamental ways to improve the performance of a website. Concentrating on a couple of different techniques can drastically improve your site's speed and overall performance.
The good news is your website's poor performance can be redeemed. Here are the key fixes to the websites which are not performing well. But if you need some expert consultancy – we are here to help.

1: Facilitate Utilizing of browser cache
The primary reason browser caching is so important is that it minimizes the burden on your web server, which speeds up your website's page load time for your visitors.
When you go to a website, your browser will download all the files it needs to display the page, including any scripts or style sheets.
Moreover, your browser will begin downloading them again if you go to a new page on the same website.
Suppose you have Leverage Browser Caching turned on. In that case, however, just the new data from the website will be downloaded, and the program's static files will be served instead. To speed up optimizing your website's performance, do as such.
2: Ensure that you have all the necessary SEO tools in place.
Without proper SEO, a website is essentially useless to a company. Providing the organization with the resources it needs to develop an SEO plan is one of the four phases we take.
Our revisions include, among other enhancements,
Including schema markup will aid search engines in providing more relevant results for visitors.

Implementing essential meta elements like H1s and title tags for search engine crawlers' readability and detailed listing in results.
3: Optimize these stunning photos to brighten the website.
Photos worthy of a Pulitzer Prize and original vector graphics have a striking visual impression on readers. However, they are also the "heaviest" components of a website. 
Sites that are overloaded with content load slowly and fail to operate properly. Site visitors are more likely to abandon it if it takes too long to load. This is why we prioritize the optimization of photos.
Visitors and search engines may benefit from speed enhancements made possible by optimizing images. Format features, pixel size, encoded data, picture quality, vector vs. raster, and many other criteria must be evaluated.
Applying keywords and including alt tags are also important parts of optimizing photos. This action and quicker, less cumbersome performance greatly improve search outcomes.
4: Reduce JavaScript and CSS File Sizes
Minification is the best option to reduce the size of your website's code and content files. It's a common method for decreasing server wait times and bandwidth use.
5: Use a Reliable CMS
Your content management system (CMS) is the backbone of your website, which is the central part of your internet marketing plan. By eliminating the need for outside help, a content management system (CMS) gives you complete control over the appearance and maintenance of your website's content. 
You'll get the tools to give your site a distinct identity, stay relevant in the modern day, and provide more value to visitors. WordPress developers like us can guarantee that WordPress will meet all of your demands as a content management system (CMS).

6: Remove unused plugins
Too many plugins might slow you down and confuse you when you don't need them. T
his may slow down your site's loading time and leave security holes that can be exploited to get access to your site's backend. Deactivate and remove any plugins that you no longer need or use.
7: Decrease Redirects
Page load times may also be slowed if visitors are sent to another page instead of being kept on the current one. This is because, unlike with a static page, the browser and web server must constantly transmit and receive data to display the requested page. 
Site performance may suffer if there are many redirects. Google's Search Console is a useful tool for discovering which URLs are triggering redirects and eliminating those that aren't required.
8: Fix Broken Links
Google's search engine results are determined by the number and quality of external links to a given page. 
The ability to navigate between different sections of the site is essential. Once everything is running well, every one of our links will take you directly to where you need to go. However, it's not a good look to have links on your site that don't work. 
Examining your whole website regularly for broken links is essential for avoiding these pitfalls.
Wrap Up
The importance of having a quick website has never been higher than now. Users expect websites to load quickly; if you can't keep up, you'll lose a lot of visitors and, eventually, customers.
We take website safety, accessibility, and speed/performance very seriously. Pingdom and Google's Page Speed Insights are just a few of our performance testing tools.
In particular, we focus on the following:
*How long does it take for media files to load? This might result from the material, including photos that are too big or too high a quality.
*Will removing JavaScript speed up the site?
*Are there any compressible CSS or JS files that might speed up the loading and rendering times?
*Domains that do not use cookies
*The page cannot be found; a 404 status.
*Explore our support and maintenance offerings; get in touch if you're interested in learning more about website speed and how to make your site quicker.
Connect to our website development experts at NFlow to make your website perform better. For any other queries, visit our official website.