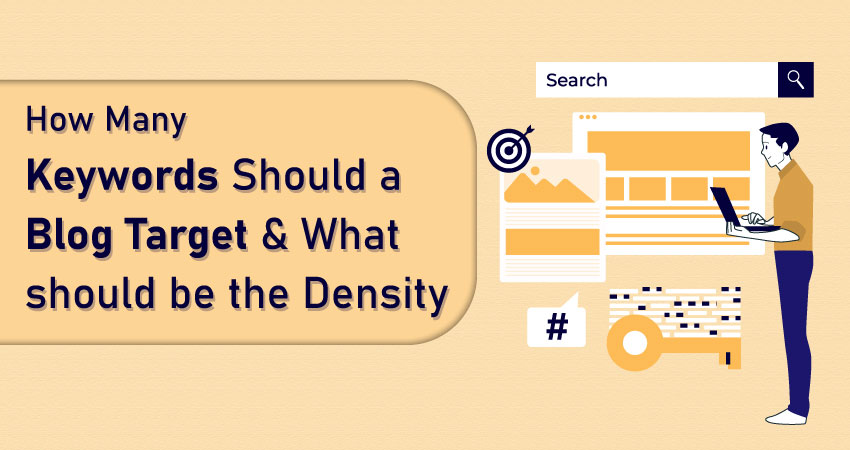 Content writers and SEO executives always have a debate on the question of how many keywords should a blog target or how many keywords should be on a homepage. Keyword density has been difficult to maintain even for experienced writers because both primary and secondary keywords are a bit challenging to include with an optimum density.
So, what is the correct answer? How much should be the keyword density for one page? Either blog or website content, how should the writers target both primary and secondary keywords for ranking the page higher on search engine rankings?
Before discussing the optimal keyword density or numbers of keywords, let us first understand a bit about keywords, their types, and their importance right from our content marketing expert.
What is Keyword Targeting in SEO?
Keyword targeting in SEO refers to choosing a set of keywords for your article, blog, or website page. Keywords are typically the search terms used by the users while curiously looking for any particular service, product, knowledge, or idea.
Example:
A person is looking for the best gym in his area. The person looking for the best gym on the search engines will type 'best gym in Delhi' or 'best gym near me.' Here the search terms are called keywords because these are the targeted words used by a person while looking for a gym or fitness studio. Hence, a fitness studio or gym owner will use these keywords while running their SEO campaign.
Search Engine Optimization and Search Engine Marketing both runs based on targeted keywords. Hence, keyword targeting stands crucial for any online marketing campaign.
Types of Keywords in SEO
There are more than 8 to 9 types of keywords in SEO. These keywords have different strengths depending on their importance and placement in the article or webpage. Placing these keywords correctly in the blog or homepage helps deliver excellent results to your SEO campaign.
So, what are the different types of keywords in SEO?
Common Types of Keywords in SEO
Below are some of the common yet essential types of keywords in SEO. It defines the strategy to how many keywords a blog should target or a homepage.
1: Short Tail Keyword
Short tail keywords are formed by mixing two or three words. For example, ' Benefits of SEO' is a short-tail keyword.
Huge search volume
Highly competitive
Vague intent search
2: Long-tail Keyword
When a user types a keyword with more specific detail, it is known as a long-tail keyword in SEO. For example- 'best holiday destination in USA.'
Optimum search volume
Less competitive
Clear intent search

3: Short-term Fresh Or Trending Keyword
Marketers generally use keywords that are in trend or recently existed. It helps to get instant visibility for your blog or homepage if targeted well, covering all the technical points.
For example: 'Symptoms of Covid-19.'
Explosive search volume (for a specific time)
Low competition
4: Long-term Evergreen Keyword
All-time relevant keywords are long yet always in the search demand.
Optimal search volume
Moderate competition
Specific search intent
Technical Types Of Keywords In Seo
1: Product defining keyword
2: Customer-defining keyword
3: LSI keywords (Latent Semantic Index)
4: Geo-targeting keyword
5: Intent targeting keyword
Keywords Based On Importance In Seo
1: Primary Keyword
Primary keywords are the most important keywords for your content piece. It is the main search term for your blog or webpage.
2: Secondary keywords
Keywords that are relevant but can be targeted on a secondary basis are known as secondary keywords.
3: Phrases
Some long-tail phrases are not perfectly keywords but are good search terms. Highlighting the phrases once or twice in the blog helps with increased visibility.
What is Optimal Keyword Density?
Marketers generally follow a thorough content checklist before publishing it online. And one of the checklists includes maintaining the right keyword density.
Keyword density refers to the times the keyword appears on the blog or webpage. As per digital marketers, 1.5 to 2% is the optimal keyword density for both blogs and webpage content while targeting a primary keyword. Secondary keyword density can be set to 1% or even less with perfect distribution across the continent.
Primary keyword density:                 1.5-2%
Secondary keyword density:            1% or less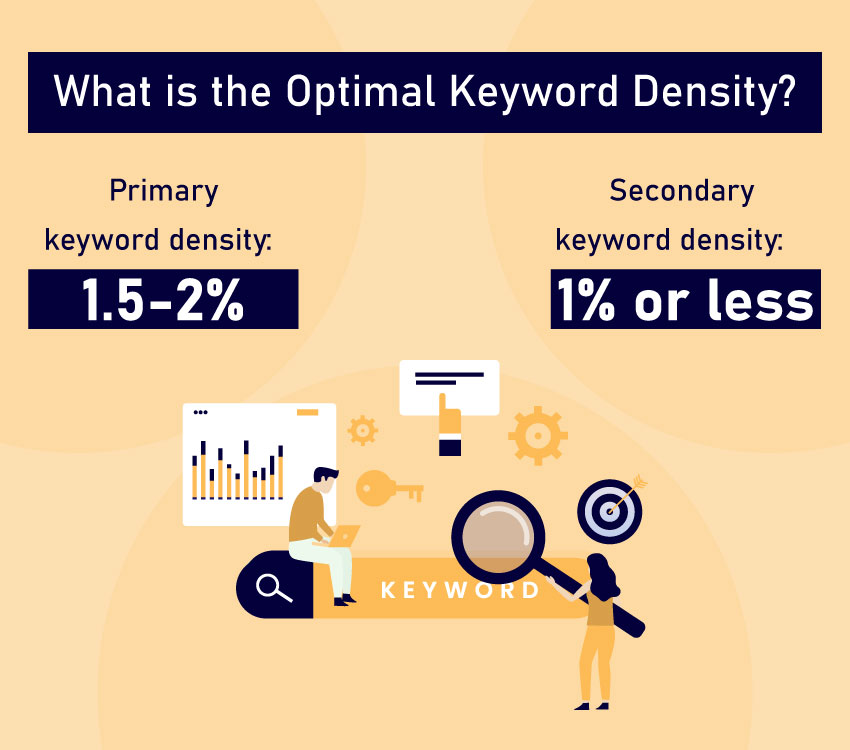 How Many Keywords Should a Blog Target?
People seem to be looking for an exact number or percentage that defines an ideal "keyword density" for web pages and blog posts. They feel there is a sweet spot; if they hit it, the traffic will pour in!
The amount of organic traffic a post or page receives is not directly related to the number of keywords it contains. Regarding driving traffic, SEO experts have been unable to determine the perfect keyword-to-content ratio.
Keywords are still important and will continue to be for the foreseeable future. Still, it doesn't mean they don't matter. While keywords are vital, it's also important to remember that many other variables are at play.
The number of times you used the term is irrelevant. You don't have to worry about cramming stuff in. Add it in if it seems right. Not to worry if you don't.
How many keywords should you put in your posts? That's our main argument. That's pertinent to the content, so please include as many as possible.
How Many Keywords Should be on a Homepage?
SEO experts say page titles should be no more than 65 to 70 characters, including spaces. Why does it happen? That's all that appears on Google's search results page, so that's why.
Watch the first 40 seconds of this video to see how Google utilizes your Page Titles.
Since the content on any page is supposed to reflect the Page Title of that page (and vice versa), using 3 or 4 keywords on your home page makes sense. However, SEO experts also believe you may use only two keywords per page.
Wrapping Up
Well, the story doesn't end here. Keyword targeting, keyword density, and keyword phrases are huge topics to discuss and debate. Different digital marketing experts have different opinions, whereas some content marketing experts don't believe in targeting any keywords, as they believe quality content matters per the latest SEO guidelines.
Connect with our digital marketing agency to run an interesting debate on how many keywords should a blog target or what is the optimal keyword density for webpages. Share your comments below!