What Are Google Core Updates & How Do They Affect SEO?

We studied the effect of Google's recent core upgrades in May 2022 to identify what you may glean from fluctuations in search ranks across sectors.
Google publishes one or two algorithmic updates daily, almost invisible.
Google will also announce a "core upgrade" a handful of times yearly.
A core update refers to extensive modifications to Google's algorithm and infrastructure that result in significant variations in search results.
This article provides an up-to-date overview of the effects of the Google core change in May 2022 on industries, search queries, and the search results page.
With more than two trillion searches each year and more than 20 years of history, it's not surprising that Google often adjusts its algorithm. In the last year, Google Search has undergone more than 3000 modifications. In addition, Google started posting (and discussing) Google core upgrades this year.
What are Google's most recent core updates? A Google core upgrade, unlike prior launches, involves significant and extensive modifications to the company's search algorithm and processes. While most launches go unreported, individuals notice the impact of fundamental upgrades on search engine rankings.
Continue reading to understand more about these modifications to Google's fundamental algorithms, including recent instances.
What is a Google core update?
This is referred to as a core update when Google makes large and extensive changes to its search engine algorithm and processes.
These modifications attempt to enhance the search experience for consumers by delivering more relevant, helpful, and reliable material. Core upgrades often occur multiple times each year and are confirmed by Google.
A significant upgrade may affect 5 to 10% of all searches. Still, a minor update may only affect 0.1% to 1% of all queries. Most of these tiny modifications are so few that webmasters seldom notice them.
Notable Google core upgrades include the following:
Pigeon
BERT
Hummingbird
Possum
Mobilegeddon
Freshness
Rankbrain
Medic
Penguin
Panda
Fred
Details of a few of the latest google core updates are as follows:

September 20th, 2022
Product Review Algorithm Update
On September 20th, Google announced that it would update its product review system, and by September 26th, it was complete. While they didn't provide any guidance for site owners, they did link to a page on upcoming changes to product reviews in 2021.
September 12th, 2022
Core Algorithm Update
Google said on September 12th that a significant change to their core algorithm would begin rolling out on that day and be fully implemented by September 26th. If you're a site owner interested in learning more about recent core modifications, check out the Google Search Central Blog.
August 25th, 2022
Helpful Content Update
On August 25th, Google sent out the Helpful Content Update, which had previously been mentioned. In addition, the Search Central blog is an excellent resource for content developers interested in making their work more user-friendly.
The SEO Impact of Core Updates
Core upgrades may significantly impact Google's search engine optimization (SEO). Google search engine optimization (SEO) focuses on making your website and online presence more attractive to Google's search engine ranking algorithm. Therefore, a new core update from Google means a new ranking algorithm.
After a significant Google update is released, all your hard work optimizing your website for the search engine may be for nothing.
For instance, a core upgrade might nullify the benefits of a ranking indicator your site relies on. As a result, your website will fall in search engine ranks due to the ranking signal being removed.
Even worse, core changes might include penalties that destroy your website's rankings. By way of illustration, websites with inadequate content were given a manual and algorithmic penalty by Google after the release of the Panda update. Before its release, webmasters could get high Google rankings even if they didn't post much new material.
Google's Panda update shifted the playing field by punishing sites with sparse, low-quality material like these. In addition to altering search ranks, some significant changes also alter the layout of Google's SERPs (SERPs).
Core updates are how Google makes changes to the SERPs by adding, removing, and altering results. Other listings include Knowledge Panels, Featured Snippets, and People Also Asked (PAA) results that don't cost anything to appear.
How to Prepare Your Website for Core Updates?
You can do several things to get your website ready for major improvements. First, find out whether a major revision is imminent by reading this. When a significant upgrade to Google's software is announced, the company often explains its motivations for doing so.
Whether the new core upgrade is announced on Google's Webmaster Central Blog or its search liaison Twitter account, It will specify what types of webpages it will impact and to what degree. With this information, you may fine-tune your site's SEO to work in tandem with the next major release.
Google may not always reveal significant upgrades, but it usually does. Because of this, you can't only depend on announcements to get your website ready.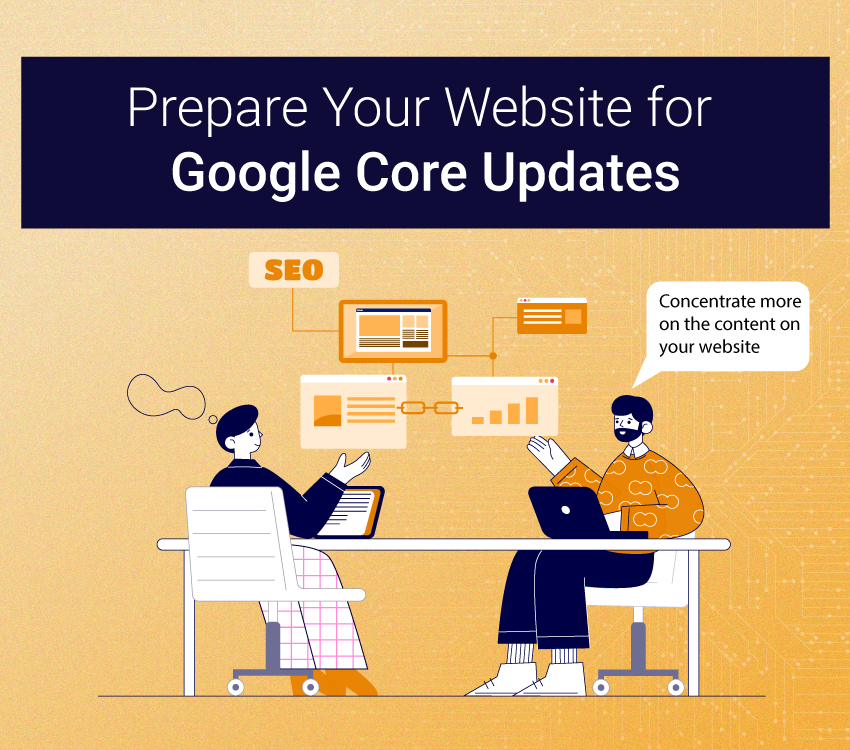 Suppose you want to be ready for Google's core improvements to enhance search results quality and relevancy. In this instance, you should concentrate more on the content on your website and less on its offsite promotion.
For example, building backlinks might help provide the impression that your website is well-known in the Internet community. However, the content you provide is what will attract and retain visitors. Therefore, if you work to enhance the quality and relevance of the material on your website, Google will rank it higher.
Getting your website ready for significant improvements includes avoiding deceptive and black-hat SEO tactics. Sites that use deceptive SEO tactics are often downgraded due to these real upgrades. Likewise, sites that violate Google's guidelines in any way may be hit with a significant upgrade.
A professional digital marketing agency might be of assistance if the task seems too challenging. So, get in touch with us now, and let us help you harness the potential of digital media!