5 Reasons Why Google Analytics is Important?

Do many business owners ask why Google Analytics is necessary for the website and business? Monitoring and analyzing your website's traffic using Google Analytics is one of the best and most effective ways. Using this tool, you may learn a lot about your site's visitors, including their interests, goals, and paths to your site. As a result, Google Analytics is a must-have tool for every company looking to improve its online presence.
Because almost every company nowadays has a digital presence. Because of this, you must study the inner workings of your website to determine whether or not it is reaching its goals. You may consider hiring a digital marketing agency.
You'll need information on how visitors use your website, such as how long they stay and which pages they view. For example, suppose you run an e-commerce site or an informational blog. In that case, you'll want to learn about your visitors' habits to improve your offerings. And having a digital marketing company on the board is a plus.
When it comes to digital marketing services, here are the reasons for which you should utilize Google Analytics to understand your website better.
Top Benefits Of Using Google Analytics
It Automatically Collects The Data
In answer to Why Google Analytics? – Google Analytics has a function that streamlines the process of importing Google Analytics data into Google Docs, Sites, and Spreadsheets, therefore saving time and effort.
To get started, all you have to do is create a Google Analytics account and paste a little bit of code into your website.
This will allow Google Analytics to collect data from your website on an automated basis and generate reports in the appropriate format.
To get the information, you must not take any action. Google Analytics takes care of everything for you.
You may even have access to your reports right now without waiting. In addition to saving you time and effort, this feature of Google Analytics allows you to have fast access to your report results. With this information, you can begin implementing techniques to improve the performance of your website as soon as possible.
If you are still feeling clueless about Google analytics and reports – hire the best digital marketing agency for your business.

It Comes With No Cost. (FREE)
It is common knowledge that "nothing in life is free," but that is not the case with Google Analytics. Using this product is entirely free of charge from Google. You'll also get a wealth of data, figures, and statistics to aid you in making your website's performance as effective as possible.
Some online analytic solutions give a free trial period before charging a monthly cost, while others demand a one-time price. However, Google Analytics is our preferred pick since it was created by the world's most popular search engine and is also completely free to use and analyze your website's performance.
And when you hire a digital marketing company – the analytics, suitable actions, analysis of crucial information managed by them and you can focus on your business processes.
The Capability Of Measurement Of Internal Site Search Based On Behavior
One of the apparent reasons Why Google Analytics? – The site search indicates what visitors are searching for when they arrive on your website, giving you an idea of what people are looking for on your site. When you hire a digital marketing company, they can help you identify spots where your site's content is challenging to find or where it is missing.
With this information, your website's navigation and product/service offerings may be improved. In addition, your website's usability and speed will improve due to this change.
It's Important To Know Why Visitors To Your Website Are Leaving In Massive Numbers.
One of the critical reasons Why Google Analytics is the bounce rate. The bounce rate is the proportion of visitors that depart after seeing just one page. This is a crucial measure since it indicates that although people are visiting your website, they aren't finding what they're searching for, so they leave.
A high bounce rate necessitates fast action to find out what is causing it so that you can lower it as much as feasible.
Having a high bounce rate might be due to the difficulty of navigating your website or the lack of attractiveness of your home page. You may lower your website's bounce rate by using detailed bounce rate data. Hire a digital marketing services provider to low down your bounce rate.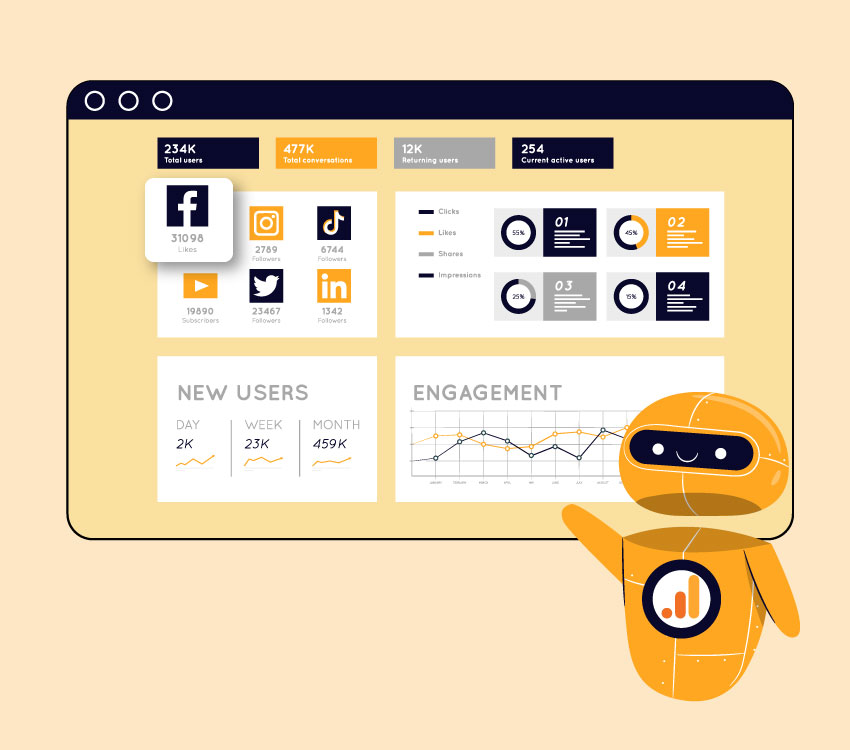 To Choose Which Social Media Networks To Focus On, It Is Necessary To Do Some Research.
To choose which social media networks to focus on, it is necessary to do some research.
You may use Google Analytics Social Platforms to get traffic and interact with prospective consumers by using them.
You can see which platforms are bringing people to your site with the help of Google Analytics and a digital marketing agency. Then, make sure you choose the optimal platform for your client's advertising needs.
For example, suppose your consumers spend the bulk of their time on Facebook but get significant traffic from Twitter. In that case, you should allocate more money to Facebook and less cash to Twitter to increase the number of customers visiting your site.
If you aren't sure which social media platform suits best to your business – consider hiring a digital marketing agency.
Wrap Up
So, we hope – you are now clear on Why Google Analytics? Using Google Analytics in more complex ways may positively impact your organization. It gives you helpful information that you can use to enhance your website's performance and boost conversions.
Even though there are other competing analytics management solutions, Google Statistics remains a free and relevant option for managing your website's analytics.