5 Benefits of Hiring a Digital Marketing Agency
Hiring a digital marketing firm could be a good idea if you're having trouble getting clients alone or are just sick of the hassle. With the help of a digital marketing firm, you'll be able to spend your time and energy on operating and expanding your company. That's just one of the many benefits of a digital marketing agency.
As you can see, digital marketing is a word that encompasses a wide range of internet marketing and business-building strategies—because of this, developing a large-scale or robust campaign might be difficult if your organization has the necessary money, time, and experience—because this, working with an agency of digital marketing services makes sense.
Benefits of Working with a Digital Marketing Agency
Reliability and Responsibility Come as a Result.
An excellent digital marketing services agency will be both trustworthy and responsible.
When you have a reliable strategist, you may call them and talk about your figures or inquire about changing your existing approach. As a result, your agency responds quickly to your questions, and you can depend on them to know the best methods and how to implement them.
A designated individual is accountable for your digital marketing plan and the data that supports it. If you are losing ground in organic search, for example, your agency has the remedy. Your agency is responsible if a purchased ad doesn't attract the expected consumers.
Leveraging Resources for Marketing Success.
You may not be able to afford a full-time digital marketer in the early stages of your company. Still, a digital marketing agency may be an option. However, many individuals may not know how much money they can save by not having to pay for all the services that organizations offer.
Here are a few examples:
Tools for doing in-depth research on a topic
Intelligence about the competition
Search engine optimization (SEO) specialists
Grammar/plagiarism detection tools
Tools for automation
Courses for learning
Tools, technologies, and plug-ins for building websites
These tools need a recurring monthly cost or a significant up-front payment. However, this will not rule out the potential of carrying out your marketing campaigns. The same result will take considerably longer and cost much more money.
A digital marketing agency's fee is hard to justify? Take into account the ROI. A digital marketing agency's return on investment (ROI) may sometimes pay the cost of the service by reaching a previously untapped market. It is one of the critical benefits of digital marketing.

Your In-house Marketing Staff Has Been Boosted In Size.
With a digital marketing firm, you're double the size of your marketing staff. You're not going to employ your own social media professional, paid advertising person, or Organic SEO specialist if you're a small or medium-sized firm. Instead, hiring an agency will give you access to those folks.
Regarding The Newest Trends, You're Always Ahead Of The Pack!
Out of hundreds of other benefits of digital marketing, it is essential! Imagine that you have made an effort to stay abreast of the most recent developments in digital marketing, including changes to search algorithms, as well as new strategies and plans. In such situation, you are aware of how rapidly circumstances may change. If you're not working in digital marketing, you're unlikely to be up to date on everything that's happening. It'll require time that you don't have at this moment.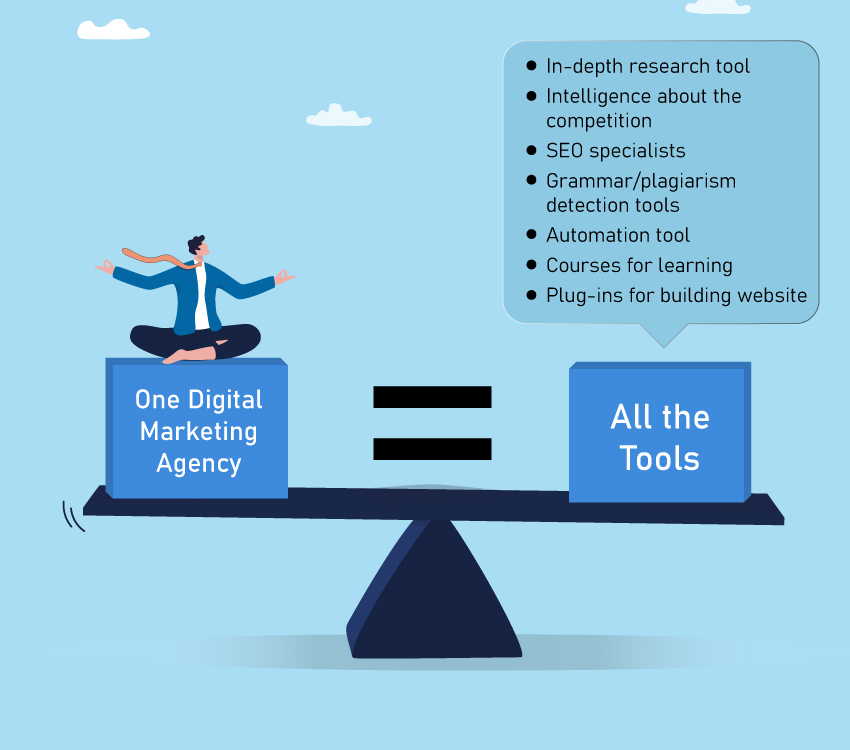 Other aspects of digital marketing exist as well. You can't only rely on social media or email marketing or SEO or video or content… You can't reasonably keep up with the tactics since they're so many.
Keeping up with the most recent trends is essential to the operation and continued existence of an agency. To be the best at what we do and keep our customers, we must stay up to date on the newest and greatest in digital marketing. As a result, a portion of our time is devoted to continuing our education and improving our business knowledge.
Working with a (good) digital marketing services agency means you'll be updated on the most recent trends and technologies and how they apply to your specific approach.
Focus Your Energy On Running Your Company
For the vast majority of digital marketing initiatives, hiring fresh employees to manage the programmes is necessary. Since you will be working with an internal team, a portion of your time will be required. It is important to remember that building up the campaign and team will also cost time and money.
This may take a lot of time, so hiring digital marketing services like ours can be a huge help. You do not want your employees to undergo weeks of training. Instead of wasting that time, put it to work, building your company from the inside out.
Wrap Up
Working with a digital marketing services firm means that your company's objectives are always linked with the company's online strategy and that your investment is maximized. Analyze your company's progress using this tool, and stay current on how the plans are doing. These acts may be quantified.
It's time for you to get help from a digital marketing firm like NFlow tech. Contact us at hello@nflowtech.com or call us on +91-9054331400.