Ultimate Guide to PPC Funnel for Traffic Temperature & Intent

This is the question everyone is thinking about: You wouldn't rely on an obsolete way to interact with customers, so why would you use an equally outdated marketing funnel to direct your efforts? We must now become experts at using the PPC funnel.
The buyer's journey has also evolved due to the shift in customer behavior. Therefore, it is prudent to replace the traditional marketing funnel with a more modern one that more closely resembles the path taken by today's digital purchasers.
Many consumers do their shopping research and discovery simultaneously across many different channels. For example, you wouldn't be alone if, while watching a commercial, you flipped between a brand's social media feed and website on your phone to read reviews on the product you were considering purchasing. Seventy-one percent of Americans use a second screen to seek information relating to what they are viewing on TV. In comparison, 69 percent of consumers research online on their smartphones while perusing store aisles.
Perhaps that's sufficient justification for starting the search for a Google PPC agency. Find out all you need to know about PPC traffic temperature and how it connects to your pay-per-click PPC funnel and the PPC channels you may be using by reading this post.
Come on, then, and we can learn what a PPC funnel is and how a PPC agency can help.
What exactly is the PPC funnel?
The PPC funnel is the series of steps a consumer takes, from learning about your brand to making a purchase, emphasizing the former. The latter occurs only inside your PPC platforms as opposed to other advertising types.
It would help to familiarize yourself with traffic temperature before you can comprehend how to make the most of the PPC funnel.
Let's do that by diving headfirst into the current traffic climate.
How does PPC traffic temperature relate to your PPC funnel?
Stages in a marketing funnel range from the widest point at the top (Top of Funnel), which attracts many individuals, to the narrowest point in the center (Middle of Funnel), when only dedicated purchasers remain.: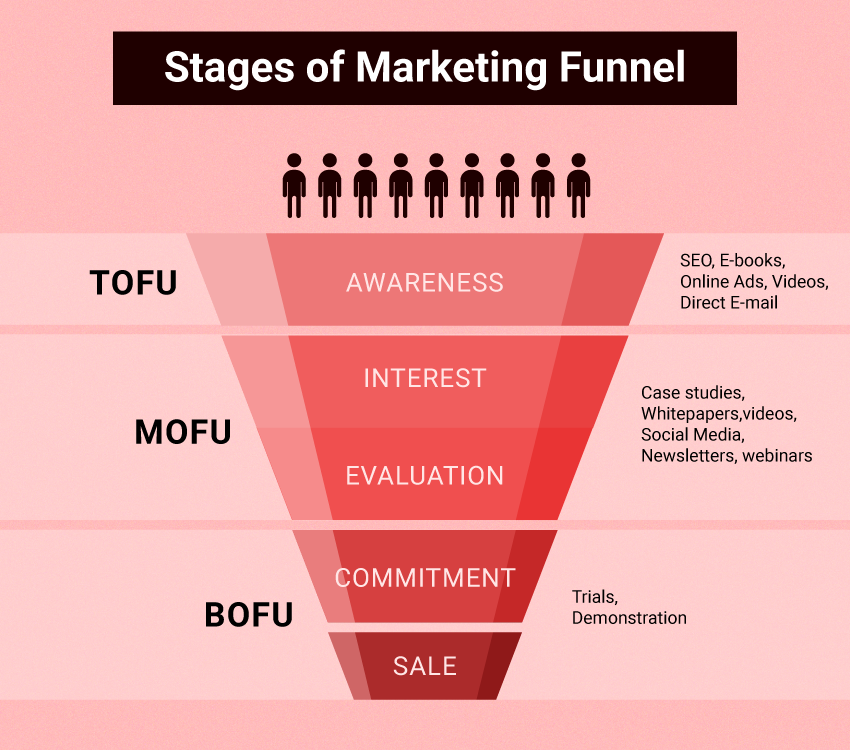 Although every PPC funnel will have unique characteristics, these 5 steps are universal.
That's why putting yourself in the shoes of your target audience is the first and most crucial step in creating a successful marketing or sales funnel. Moreover, doing so may save a lot of unnecessary hassle and guesswork.
As such, let's examine the many points at which clients enter and exit the marketing funnel.
TOFU – where you identify the problem
The first step in making a purchase is realizing you have a need. There is now an onset of consciousness.
Why spend money on a remedy if you haven't identified a problem? The presence of no outward symptoms of gum disease may prevent you from seeking treatment.
However, if your heating system fails while it's cold outside, you'll know right once something is wrong and go right to the next phase of the purchase process (research). You may do some reading, but since the urgent issue, you won't spend too much time on it.
MOFU – where Information Search takes place
Potential leads enter the second stage of the funnel when they become aware of an issue or need, at which point they do more research.
In general, the size and breadth of a transaction determine the methods utilized to obtain information. For example, when you realize you're hungry; On the other hand, if you want a new in-ground pool installed at your house, you should do some research online, make some phone calls, check out some reviews, go to a few different showrooms, and chat to several salesmen before making a final decision.
Trust Radius found that 33% more customers in 2021 spent more time researching items before purchasing than in 2020, indicating that this funnel is growing more in-depth. Now that they have identified a problem, they aren't seeking advertising material; they want information about possible solutions.
MOFU – where Evaluation of Alternatives happens
Suppose your article or ad has made them aware of a problem. In that case, the next stage is for them to evaluate the many solutions you've presented. Again, the length of time spent in this step varies widely from one sort of transaction to the next. Sometimes it's as easy as saying, "Well, I feel like Chinese cuisine, not Mexican food today," while deciding where to eat.
Let's pretend, however, that the client is investigating marketing automation software as a means of enhancing the sales funnel they've already established. This kind of service may cost as much as $1,500 per month. Therefore it will be evaluated with more scrutiny. They may ask around, try out the systems for free, chat with representatives from each firm online, or study how-to videos to learn more about the pros and downsides of each.
Amid the sales funnel, for example, buyers are weighing their options as to which accounting firm to choose. As a result, they may need instructions on how to analyze the landscape of accounting services (i.e., whether to engage a single accountant, an agency, etc.), how to pick an accountant, and how much to budget for accounting services in general.
Content ideas for a marketing services company include: 
how to research and evaluate marketing agencies
cost breakdowns of marketing services
To hire PPC agency outside or employ in-house staff
BOFU – where Purchase Decision happens
Buying is the last step after researching, evaluating, and deciding. Finally, the prospective buyer has recognized the issue, conducted thorough research, and settled on the optimal solution. They are now contemplating opening their wallets.
Website conversion rate optimization (CRO) is a great option for boosting revenue.
You may purchase your product or service a no-brainer by offering free trials, money-back guarantees, and other comparable deals.
Visitor intent as a temperature scale
Now that you know some of the PPC visitors you've been feeding cold steak, it's time to examine the journey some of them take before they finally become paying customers.
There are essentially three levels of intensity that you should use to classify your PPC traffic:
"ice cubes down pants" traffic
"Someone peed in the pool" traffic
" straight-up volcano lava" traffic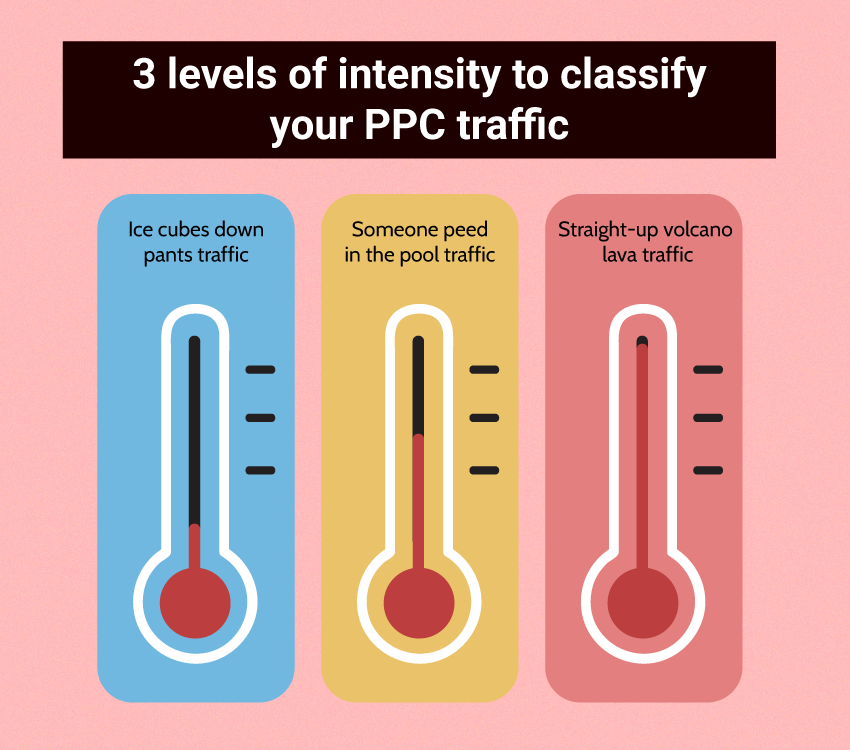 We'll talk more about how these three temperatures correspond to the different stages of your PPC funnel.
Let's start by defining the various temperature ranges.
Ice cubes down pants traffic
Let me ask you something first: Have you ever had ice cubes placed down your pants? It's shocking because it catches you off guard and is completely unexpected.
I inquire because there is a high probability that you are engaging in such conduct with your current audience.
As I noted, getting individuals to perform micro-conversion steps is necessary before you can expect them to convert on your macro conversion (the ultimate aim of your PPC funnel & campaigns).
Someone peed in the pool traffic
Know the sensation of finding a warm place when swimming in a pool?
For a while, you like it, but you're not sure whether you should stay.
Now you're thinking, "Hmm. And what is this, exactly?
A similar thing happens to your site's traffic when it's like "someone pooped in the pool."
Either the call will turn them off to action on your landing page (the pool), or they'll be indifferent (gross, I know, but I'm being honest) and stay around to convert.
I'll be referring to warm traffic as PPC traffic, although there are different classifications.
Someone who uses the phrase "someone peed in the pool" to describe themselves as a visitor is likely interested in either your products or your content. This is NOT someone who was aimlessly perusing the web and landed onto your image ad (these visitors have no real interest in you).
Straight-up volcano lava traffic
People who are already convinced to purchase from you because of their enthusiasm for what you're offering. You may call it the "volcanic lava" route.
This audience adores people like you.
They are well-versed in your brand since they either purchased from you or read so much of your material.
People who are most likely to convert are already familiar with your brand and looking for it online (via search engines or retargeting audiences).
Wrap Up
Some people's fixation with funnel marketing may be traced back to the existence of varying PPC temps.
You'll have a better grasp of why focusing on optimizing your PPC funnel could provide greater results than doing several other types of strategic experiments. If you are too busy with your core business activities, hire a PPC agency.
Examine your marketing plan for the calls-to-action/offers you're utilizing to pull in conversions from PPC visitors and see if you can improve them.
Have you been using your tepid call to action on uninterested consumers? If so, "reducing the threat" of your calls to action should be tested to see if it enhances performance.
Also, remember that not all PPC visits are created equal.