What an Effective Content Marketing Funnel Looks Like?
Have you ever tried to buy a microwave at a regular store? This is a terrible scenario. As you peruse the shelves, looking for the best microwave for your money, you think about the features you need. The same is true for all home appliances, including refrigerators, washing machines, and dryers. Why? Because conventional avenues of content promotion are non-existent in stores.
Creating engaging content for a marketing campaign is not an easy process. How do you choose where to invest your money? How do you choose which channels to employ for content marketing? For whom are certain forms of expression best suited? Is there a fool-proof method for getting the word out about the content you painstakingly crafted? The solution is to work with a content marketing agency.
We can tackle every one of your content marketing issues. And, we can help you increase production, improve the quality of your content, and stay in compliance with industry standards.
We may, however, begin with the content marketing funnel to explain content marketing in more detail. What is it, and how can it be used to generate content that your target audience will want to read?
What is a content marketing funnel?
A content marketing funnel is a model that shows businesses how to use content to attract and retain consumers at every stage of the buying process, from the first point of contact to the long after they have made a purchase. The practice is often part of a broader content marketing strategy.
When analysing and constructing a content marketing funnel, we consider the many forms of material used to engage and convert consumers.
If you need a reminder on the content marketing funnel, here it is:
*Top of the funnel (TOFU): attracts attention
*Middle of the funnel (MOFU): generates leads
*Bottom of the funnel (BOFU): drives conversions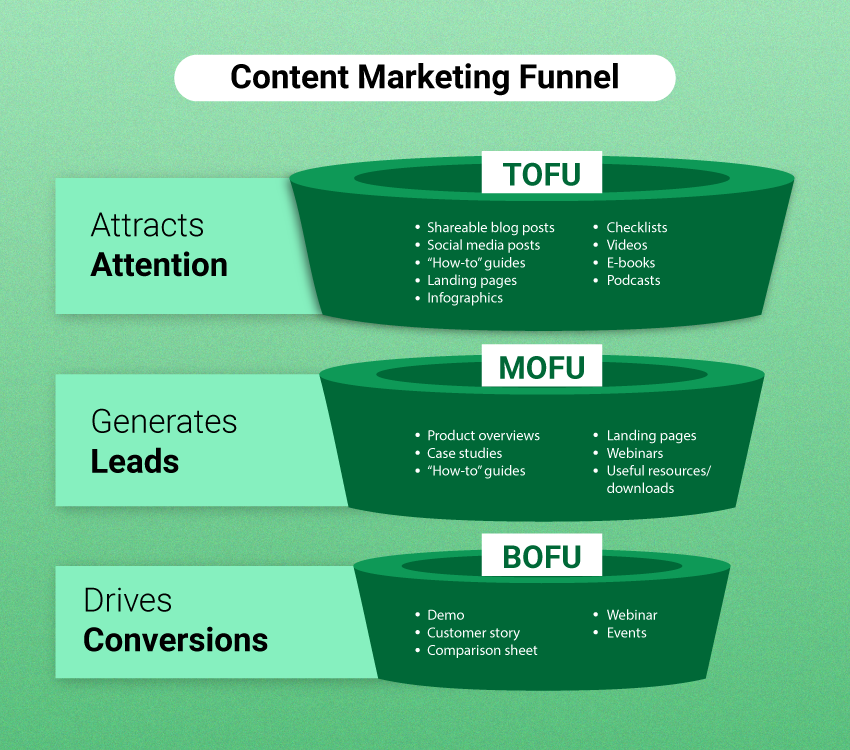 As a marketer, you need to answer the question, "What content will fulfil the needs of your potential consumers and help them create a relationship with your brand at a specific stage?"
Do we hope till this point, you are clear about what is content marketing funnel?
Top-of-funnel (TOFU) content – Awareness
It would help if you assumed that leads entering the content marketing funnel know nothing about your company or the service you offer. It would help if you now informed them. Top-of-funnel (TOFU) material is meant to educate readers before they enter the sales funnel. Media formats such as:
Shareable blog posts
Social media posts
"How-to" guides
Landing pages
Infographics
Checklists
Videos
E-books
Podcasts
However, you need not try out new things with every substance. Put a few to the test that have shown promise with your audience and see how they do. Think about the following with every piece of content you make:
*Is there activity on social media and video playback from customers?
*Is there a reaction from my intended readers?
*Is there any follow-up to the conversation?
Information such as pageview duration, review counts, and visitor retention rates might assist answer such questions. Check out Google Analytics if you're interested in learning more. Suppose you find that your content is inadequate or isn't targeted toward the right audience, pivot. You can change directions any time, even if you've already started going in a specific order.
Middle of the funnel (MOFU) – Evaluation
The centre of the sales funnel is where prospective customers determine whether or not they need your product or service (MOFU). Acquiring your customer's confidence during this first evaluation phase is essential. Considering that no one does business with a company they don't trust, it's necessary to find ways to strengthen this bond.
People are looking for justifications for buying your goods or service:
"How-to" guides
Product overviews
Case studies
Landing pages
Webinars
Useful resources/downloads
Once more, evaluate whether or not your content has the desired effect:
*Is there an increase in conversions as a consequence of this material?
*Is this information responsible for generating new business?
*Is this information helpful or detrimental to my overall goal?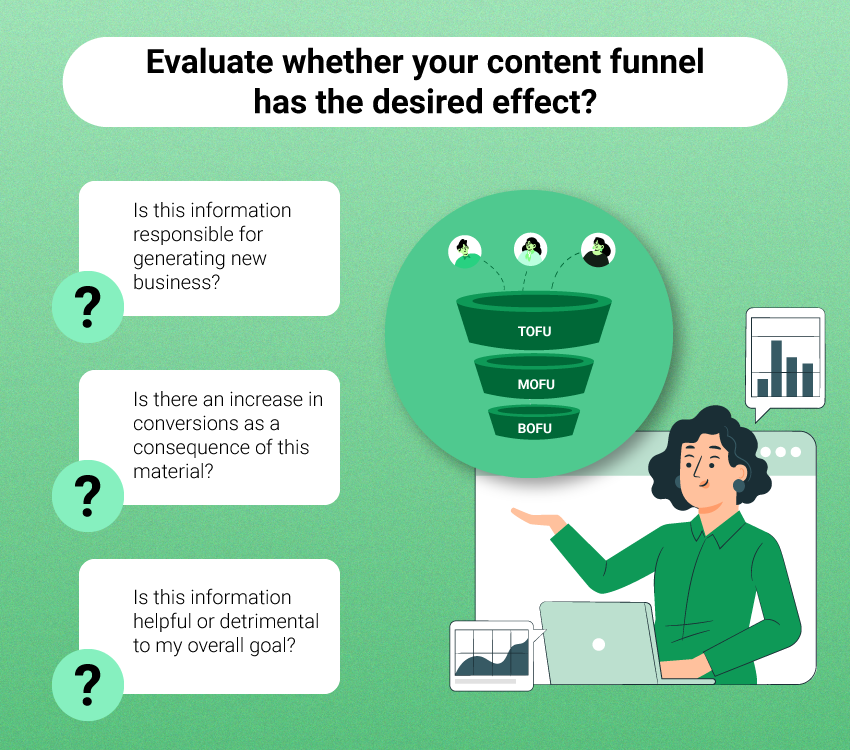 Producing high-quality content may help nudge onlookers closer to making a purchase. Please do not place all of your eggs in one basket, since they will not all hatch at once. This is why it's essential to utilise a wide range of content marketing strategies and to develop a comprehensive content plan.
Bottom of the content marketing funnel (BOFU) – Conversion
When making a purchase, everyone desires a sense of safety and security. Provide prospective clients with specific justifications for purchasing your goods or using your service.
The fundamental objective of the content funnel is to pique the attention of prospective buyers in your offering. At the conclusion of your content marketing funnel, you should provide clients with a compelling incentive to purchase.
Customers are more likely to buy from you if you show them how your product or service compares well to competitors' offerings and provide convincing evidence of why they should choose you.
Again, keep in mind the following:
*Is there a clear call to action in what I've written?
*Am I making it as easy as possible to make a purchase?
Offering your service for free might lead to a purchase, as long as you are not giving away the whole item. Free trials are an excellent method to present your product or service to prospective customers. Still, they should also stimulate their interest so that you can make a sale.
Conversion
Despite not being a part of the conventional marketing funnel, a number of businesses have added measures to retain and delight consumers.
Your content strategy should be geared toward attracting and retaining readers. This work extends beyond the initial point of purchase.
It would be beneficial if you made it easy for consumers to interact with your material and provide comments. Put this into consideration:
*Do you think people would be interested in leaving feedback on this content?
*Is it likely that people will share this knowledge with their social networks?
*Do real-world examples of triumphant customers appear in this piece?
Give your followers exclusive discounts or upcoming product previews to show appreciation. Customers influence their social circles even if they never make another transaction with you.
Wrap Up
Conversion-focused content creation is at the top of the content marketing funnel. Assume you have an effective approach in place. In such a situation, your company will be able to engage and convince buyers along the whole content marketing funnel.
However, an effective content strategy is just a piece of the puzzle. Using metrics to see how well your material is doing is also important. Always be on the lookout for ways to improve or repurpose existing content. Incentives for returning customers and new prospective ones are always appreciated.