Understanding User Mindset: Thinking Like Your Customers

The current era of business is often referred to as the "era of experience" among corporations. Brands now have to provide the best possible customer experience to keep up with the competition brought on by the rise of digital technologies. And for the same reason, understanding the user mindset is necessary for 2023!
With a more profound understanding of user mindset, we can develop a more insightful message and foresee how it should progress from email to email. And it helps us plan for the many ways in which our consumers may interact with our digital assets.
How to Think Like Your Customers?
What strategies can you use as a company owner to put yourself in your client's shoes and provide them with positive experiences that encourage them to become loyal patrons? Consider these three primary considerations to understanding user mindset:

Establish a system that prioritises the needs of the client
The leadership team sets the tone for the whole company. The CEO and senior leadership team are accountable for daily promoting and exemplifying the company's culture.
Thus, all actions taken at the top level must consistently create a customer-centric culture and demonstrate such a mentality to understand user mindset.
The social and behavioural norms established inside your firm are also a product of the company's culture. As a result, it determines how you interact with your customers, partners, and stakeholders and impacts your hiring practices, communications, education initiatives, and decision-making processes.
First, you need to make sure that the people you bring into the company aren't only a good match and enhance the culture you already have established.
Sprouts Farmers Market is a firm that is succeeding in this area. When it comes to being a people-focused, culture-driven business, Sprouts is in a league of its own. The company's culture is highly valued, and its leaders set an excellent example for the rest of the staff.
They invest in cutting-edge learning and development solutions and make sure new hires are engaged in the culture from day one, so they can provide the most excellent possible customer service.
Allow for realistic training scenarios
The following statement is exact & accurate to understanding user mindset: it takes time and effort to become good at it. However, when you provide your staff with the resources they need to develop their contextual awareness, you increase their self-assurance, the quality of their interactions with clients, their ability to solve problems on the fly, and the stress and anxiety they feel on the job.
When designing programmes for realistic practice to understand user mindset, it's vital to bear in mind the following factors: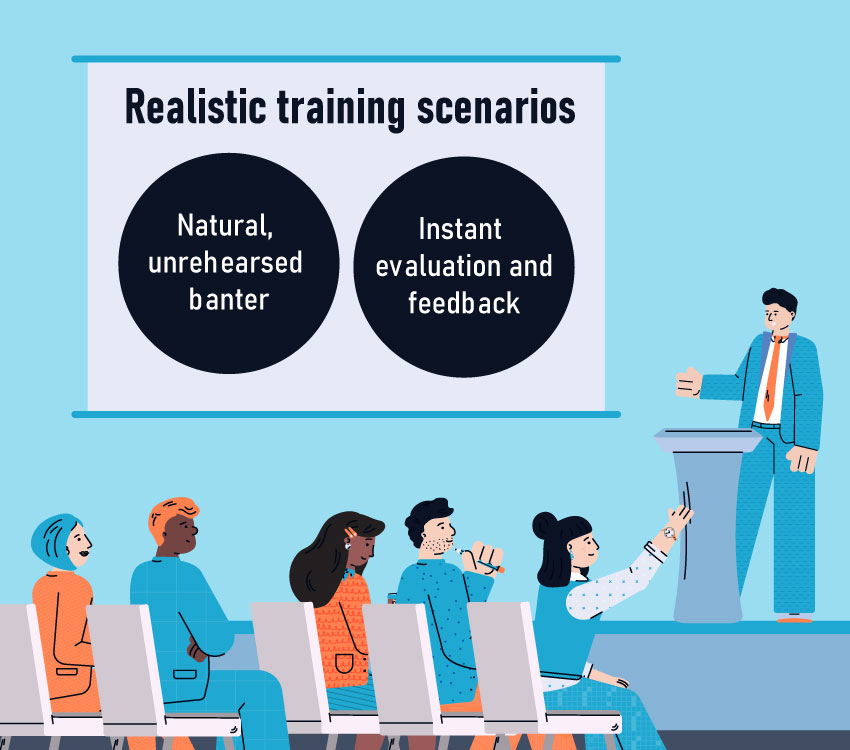 Natural, unrehearsed banter. Role-playing and other time-honoured training methods are often used to simulate real-world scenarios. These methods are more practical than reading a manual or watching a video. However, they still lack an essential ingredient: critical thought.
Instead of requiring learners to interact with the event actively, role-playing situations with scripted talks merely provide them with a "talk-track" to follow. Additionally, these cases are often dismissed as unlikely.
That's why it's crucial to provide workers opportunities to rehearse real-world scenarios without a script, so they can learn to read emotional and nonverbal clues, make sound judgments, and respond appropriately.
Learners may enhance their skills via situational practice if provided with best practices, followed by rapid feedback and chances for self-assessment.
Instant evaluation and feedback. To assist students in becoming better, an excellent situational practice session should start with demonstrating the best practices to be used, then provide instant feedback and opportunity for self-assessment. This allows for crucial introspection, which is necessary for problem-solving and creating effective solutions.
Building a customer-centric culture relies on providing staff with opportunities to "learn by doing" and experience empathising with and connecting with consumers. Many businesses are now resorting to online and technology training methods since face-to-face instruction is more challenging to conduct in light of COVID and other social distancing regulations.
Create a sense of compassion
The capacity to empathise with another person and see things from their point of view is potent. The ability to put oneself in another person's shoes is called empathy, and it is crucial in a customer-focused workplace. According to a new poll by Salesforce (following speed and expertise), consumers rank empathy as the third most essential attribute in customer care.
Staff members who can empathise with one another are better able to recognise difficult situations and react to them calmly and efficiently, preventing them from escalating. What you say to your consumers is crucial, but how you say it is equally so to understanding user mindset.
What you say to your consumers is crucial, but how you say it is just as critical.
Think about the world as it is today: Uncertainty and worry have crept into our professional and private lives due to the epidemic and the resulting social and political conflicts. It has also changed how we access products and services as customers.
For instance, it didn't take long for face masks to become a standard issue in most workplaces. Frontline workers were suddenly saddled with the responsibility of upholding these severe new safety regulations, which increased high-pressure contact with customers. Although it is often part of an employee's job to speak with worried clients, the added strain of emotional and social stress may make the encounter difficult for everyone involved. If not handled with care and empathy, situations like this have the potential to escalate swiftly.
To further prepare your staff for the emotional effort of de-escalating such confrontations, consider providing empathy training to understand user mindset. They could learn to zero down on issues like these as they study. For example, when a consumer has an emotional reaction, what is the root cause? Is it fear, or are they furious? What else might help them feel heard and understood?
Employees who practise empathy are better able to connect with customers emotionally, maintain composure under pressure, come up with innovative solutions to challenges, and provide a more satisfying overall service.
Make better use of Analytics
The process of better understanding user mindset should be continual. Google Analytics, CRM systems, and other reporting platforms may help marketers gather data from which they can conclude their target audiences.
The challenging part is zeroing in on the indicators that will impact your efforts, learning actionable insights from those numbers, and then putting those learnings into practice in your marketing and management.
It's simple to become lost in the sea of data generated by reporting systems. The abundance of potential meanings in the data might leave some individuals feeling lost in the shuffle.
Consider your company objectives first when deciding which marketing KPIs to tracking. Just what are your end goals? The next step is to pinpoint the quantifiable steps you may take to prove you're making progress toward your objective.
When you go into analytics, you may discover what your potential customers care about most, where you can improve, and where new chances exist.
Wrap Up
Businesses have long placed a premium on providing a positive customer experience. Still, with evolving expectations, stricter safety measures, and innovative communication channels, this is more important than ever.
While various methods are available to understand user mindset, the self-assured and well-informed staff is the most critical factor.
Businesses that focus on their customers, show compassion for their employees, and provide exciting learning opportunities will succeed. Put yourself in your consumers' shoes for a minute and ask whether your staff has the authority, resources, and self-assurance to provide the most exemplary service possible.
Connect with NFlow experts to learn how to make appealing content marketing strategy by understanding user mindset.