5 Techniques to Help You Truly Understand Your Customers
Understanding user mindset is a must for any business operating in any industry. With the technological development growing daily, brands are coming up with a unique cheaper solution – understanding your customer becomes essential.
The Teradata study found that just 41% of marketing executives relied on consumer interaction data to help guide their campaigns.
5 Techniques to Truly Understand Your Users
In these situations, it is critical that all companies thoroughly understand their customers and offer them an excellent customer experience.
As a result, we've compiled a list of the five most acceptable methods for understanding user mindset.
Develop More Detailed Buyer Personas.
Many marketers erroneously rely on broad demographics like age, career, and region when creating customer personas. Unfortunately, these data pieces are insufficient to enable you to craft messages that connect emotionally with your target audience.
Modern customers are more self-aware and less loyal than they were in the past, making it more challenging to create a clear buyer persona. Moreover, because they started the micro-segmentation process, you need to offer them more personalized goods or services.
Technology's emergence has made consumers more demanding and confident. Still, it has also provided firms with a wealth of information that may help them understand their customers' needs.
Using the Google Analytics Acquisitions tab, you can observe where your site's traffic is coming from regarding social media, industry blogs, and professional forums. Then, use this knowledge to better target your personas by determining the best times and places to reach out to them.
Integrate a Customer-Centric Approach
Revenue and customer retention may both benefit from improving the customer experience. Moreover, it may be a valuable source for understanding user mindset when it's done well.
Because of the availability of new technologies, it is now much easier to interact with your consumers in real-time and understand user mindsets. Customer service channels like Drift and Messenger are becoming more popular, allowing you to chat with your consumers while they are browsing your website:
Insights on customers may be gleaned via these methods. You may get a deeper understanding of your consumers by using the data you have collected through your interactions with them, regardless of the channel you use. Look for trends and respond to the information you get from your customer support employees.
On top of that, customer development is the best. Regular phone calls with consumers may help you better understand their concerns, demands, and issues.
Think of your developing connection with your consumers as a two-way street as you attempt to keep them engaged in the early phases of their customer journey. For example, include a customer satisfaction survey in your email to encourage consumers to submit their views and ideas.
Analyze Customer Data to Generate New Information
Each client action, such as clicking a link or reading a page, provides valuable information about how customers behave. A user behavior monitoring tool may help determine how clients interact with your website.
Bounce rate and time on page are just two examples of data gleaned from services like Inspectlet and Google Analytics. In addition, Inspectlet might even provide brief videos of real people on your website.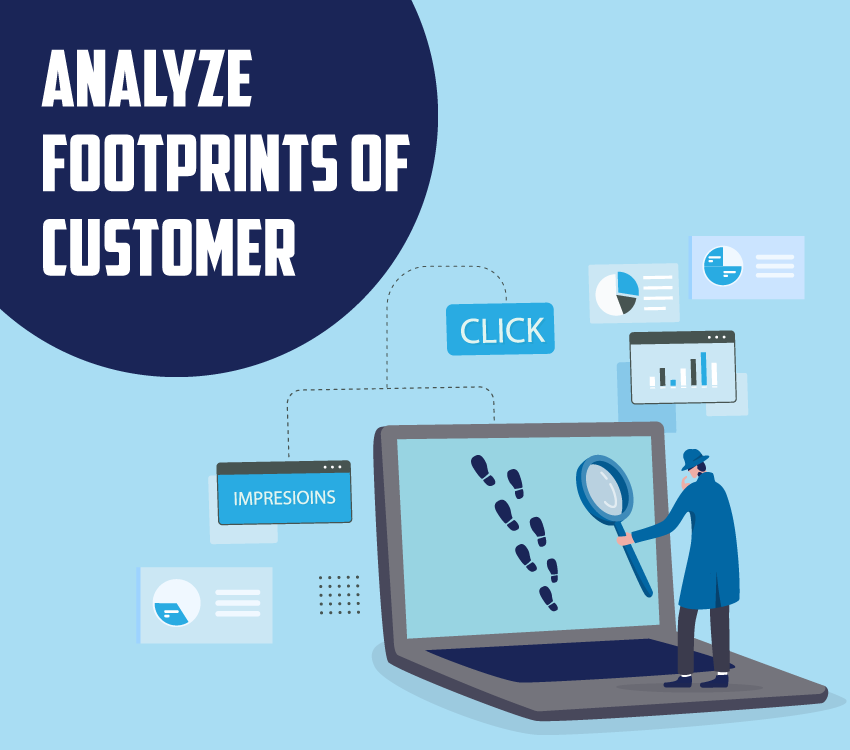 You should use the behavioral data you collect to judge what your audience doesn't understand, what they like and don't like, and how you can improve your website experience.
The interface should be redesigned if users have problems finding a specific sales page, for example, to make it more user-friendly.
Predict Future Trends.
Every successful business owner must not only keep abreast of the most current changes in customer relations but also anticipate the trends that will emerge in this area.
As a result, it pays to spend time and effort learning how your consumer analytics may advise your company strategy if you want to stay one step ahead of the competition.
In a good way, there's a lot of useful information coming from web visitors. However, if you're looking for a more in-depth consumer behavior analysis, you may consider Angoss Analytics or Kissmetrics.
When you master these methods, you'll be able to assess the existing condition of customer interactions and identify emerging trends that help in understanding user mindset. Then, using today's extensive data capabilities, you can forecast the behaviors of tomorrow's customers.
Navigate Your Customer's Roadmap to Success
Putting yourself in your client's shoes is the only way to grasp the unique and dynamic nature of the consumer purchasing process and understanding user mindset.
Through a sophisticated approach known as "customer journey mapping," firms may generate a precise, visual depiction of the customer journey using key touch points—interactions between your brand and your customers before, during, and after the purchase. This is achievable.

The most excellent method to comprehend the dynamic and intriguing client purchase experience is to put yourself in your customer's shoes.
Using a method known as customer journey mapping, firms may create a clear visual depiction of the customer journey based on crucial contact points – linkages between your brand and your customers before, during, or after a purchase has been completed.
Conclusion
Understanding user mindset has never been more straightforward than now, thanks to improvements in analytics, behavioral recording technologies, and customer touchpoints.
It is essential to tailor your customer interaction efforts to the needs of your target audience when using the approaches described in this article. Connect with NFlow experts to know how to plan your business content and marketing strategy that helps understanding user mindset successfully.